If you happen to be in the area don`t miss this fun, local event in Kurokawa Onsen!
This year,the  Kurokawa Onsen Kanshasai or `Onsen Thanksgiving Festival` will take place as usual over the weekend of October 1st and 2nd. Starting from 3pm on october 1st there will be a variety of food stalls,games,displays and events ,mostly located  in the car park of the Visitor Center. There will be lottery tickets on sale,and the draw (prizes last year included Kurokawa Onsen accommodation coupons) will take place at 10pm on the main stage,followed by fireworks.
I just missed the `bottom sumo` last year,or rather,they decided at the last moment to make the men do `bottom sumo` and the women do arm wrestling……These events are scheduled for 7:30pm,but do arrive early if you want to join in as they often change the schedule of events at the last moment
On Sunday October 2nd there will be a colourful parade advertsised as an `Edo period time slip` starting from the San-ai Rest House around 10:30am,proceeding down into the streets of central Kurokawa and then back. Please be prepared for traffic congestion,with some streets (mainly Shimokawabata and Kamikawabata dori) closed to traffic between 11:30am and 1:30pm.  During the weekend of the festival there will be extra parking available just further along route 442 (keep going past the Gas Station,through the tunnel and it will be signposted on the right) with a shuttle bus provided.
Japanese poster and simple map showing parade route on October 2nd and extra parking area (in yellow)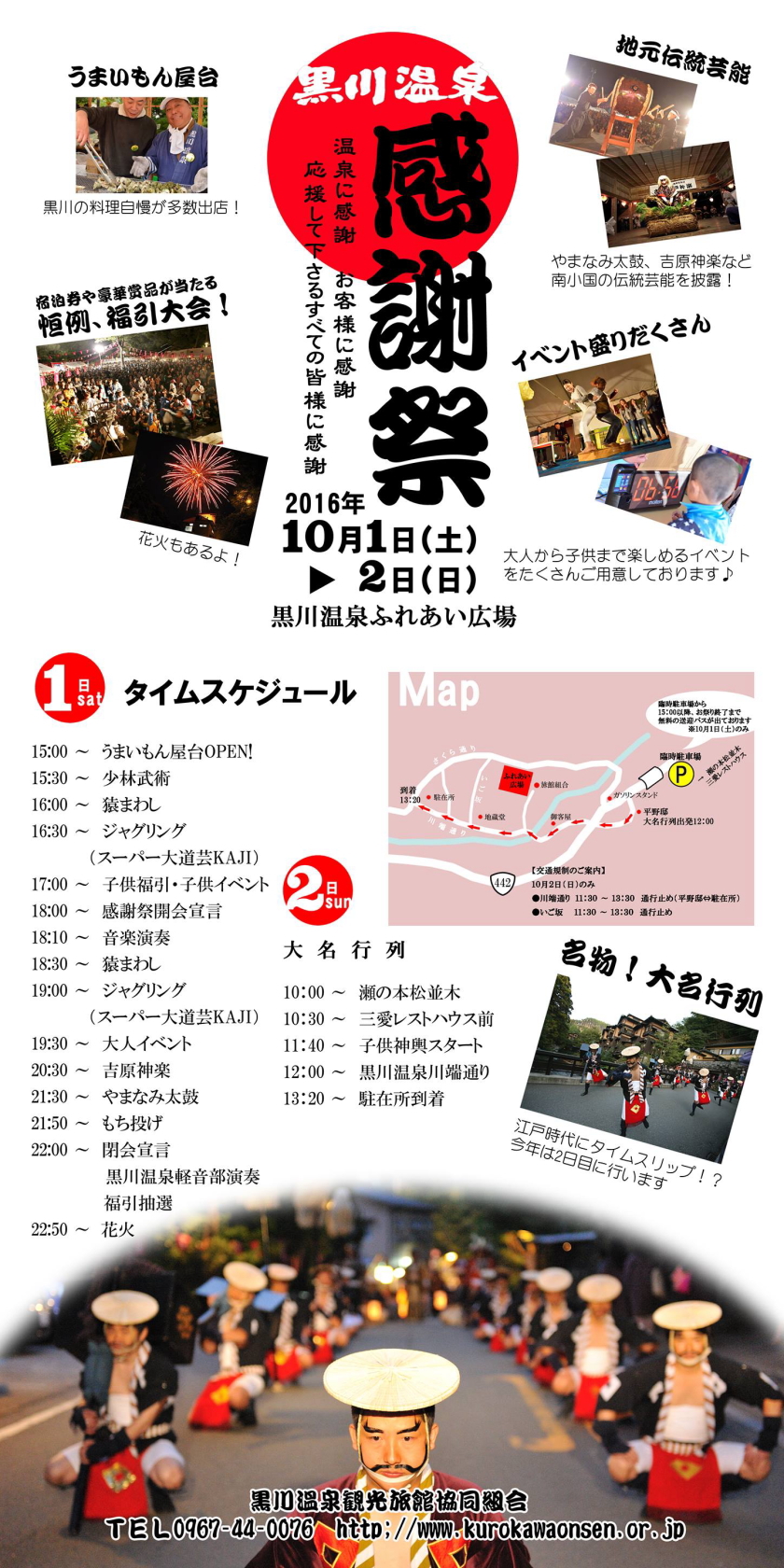 The following two tabs change content below.
onsen-hopper
Teacher
at
フレンズ英会話 "Friends"English Conversation School
Resident in Kyushu for over 20 years and fortunate to be living in this beautiful corner of Aso close to a number of onsens including Kurokawa, which I love to visit with friends or my guests from overseas. Keeping this semi-official blog in English for the Kurokawa Onsen Ryokan Association now gives me the perfect excuse...I just HAVE to try all the (public outdoor) baths I possibly can!
Latest posts by onsen-hopper (see all)