Good morning!
Unfortunately a wet and cloudy one,but we expect better weather on Sunday,November 6th this year for our biannual hiking event.
This time,we are planning a course of approximately one and a half hours,uphill but not a difficult walk. Lunch,a bottle of water and free entrance to one outdoor bath is included in the price. At 1pm,after lunch,you are then free to return to downtown Kurokawa (on foot).
Date: Sunday,November 6th 2016
Time: 10am for a 10:30am start
Place: Meet at Parking area 1 (across from Nishimura Inn,5 mins walk from Visitor Center)
Fee: 1500 yen per adult, 1000yen  per child (children free if lunch is not required)
A packed lunch,water and entrance to one outdoor bath is included in the price
* Please contact the organisers at `Bechinkan` (an office located downstairs behind the Visitor Center) if you would like to reserve a place,as numbers may be limited.  Tel: 0967-48-813o
Japanese flyer follows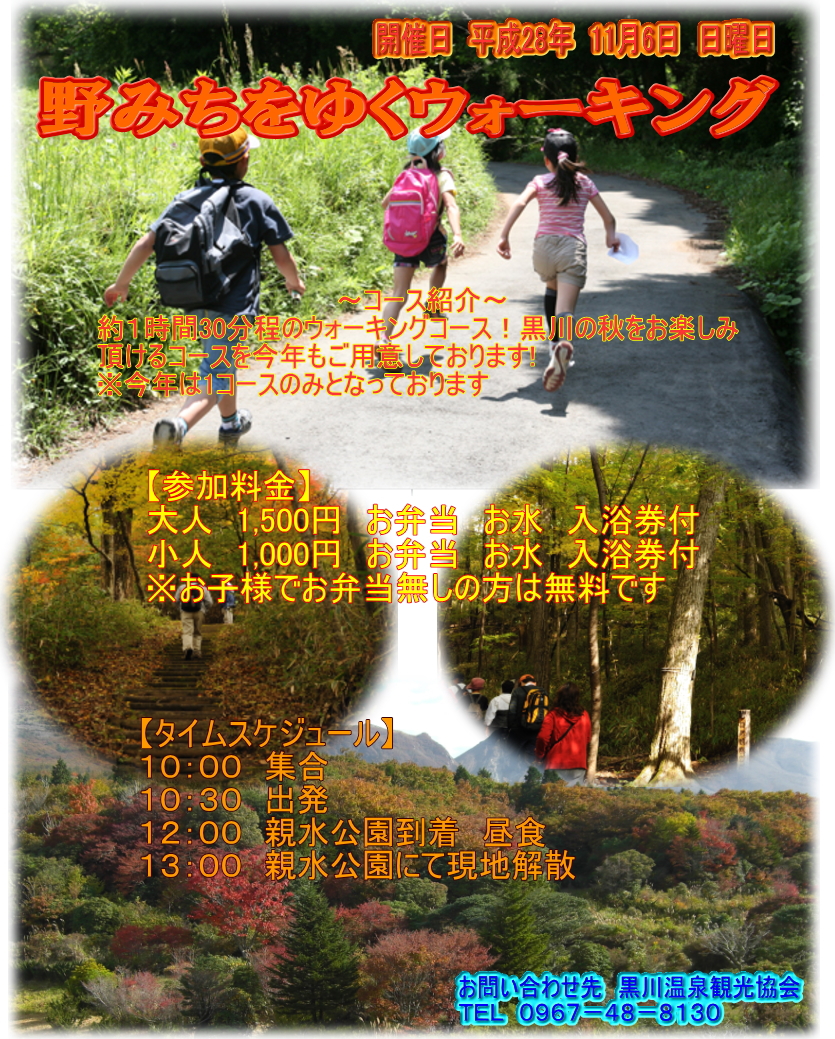 The following two tabs change content below.
onsen-hopper
Teacher
at
フレンズ英会話 "Friends"English Conversation School
Resident in Kyushu for over 20 years and fortunate to be living in this beautiful corner of Aso close to a number of onsens including Kurokawa, which I love to visit with friends or my guests from overseas. Keeping this semi-official blog in English for the Kurokawa Onsen Ryokan Association now gives me the perfect excuse...I just HAVE to try all the (public outdoor) baths I possibly can!
Latest posts by onsen-hopper (see all)