FREE outdoor bathing  day in Kurokawa Onsen !
WHEN?    June 26th,2014 from 10:00 to 15:00 (day-trippers/onsen-hoppers)
10:00 to 21:00 (ryokan guests,who must wear their  yukata to participate)
WHERE?   The outdoor baths (rotenburo 露店風呂) at any of the 24  participating ryokan in Kurokawa (please click on the `Onsen Map` link at the top of the page for a Kurokawa map in English)
WHY?      It`s a kind of play on words… The number  26 can be read in Japanese as `fu ro`,which also means `bath`. So go ahead and enjoy a free bath on this especially significant date in June!
Just pop into the reception of the ryokan first (rather than go directly to the bath) and they will show you the way.
There will also be free tea served in the Relaxation Lounge at the `Bechin-kan Building` behind the Visitor Center between 10:00 and 15:00. 😉
I think I`ve covered the useful bits (the important-looking red triangles on the blue and green lines meeting at the Visitor Center in the middle of the map below appear to be stops for a shuttle bus running from 10:00 to 15:00,but I`d better check that with my boss as I`m not 100% sure…)
Just noticed that the Heisei year is also 26,so the date for this free bathing extravaganza is actually 26/6/26 . So book a day off,grab your towel and head for Kurokawa!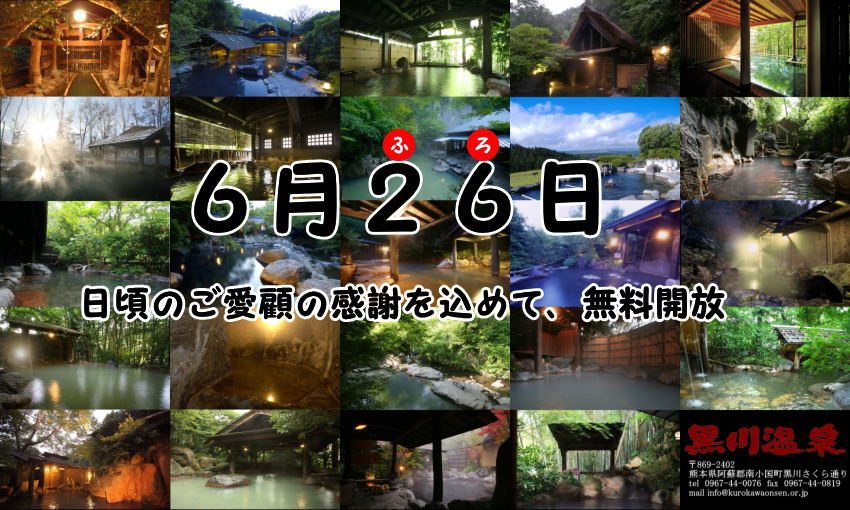 ●開催日 平成26年6月26日木曜日
●露天風呂無料開放時間 10:00~15:00まで
・ご宿泊のお客様は、10:00~21:00までご利用になれます。(要:浴衣着用)
・ご利用の際は、必ず各お宿のフロントへお声かけ下さいませ。
・川端通りに案内人がおりますので、何かご不明な点ございましたらお声かけ下さい。10:00~15:00まで
●べっちん館休憩所のお茶サービス 10:00~15:00まで
【巡回送迎】
・▲は定期的に巡回送迎車が停車します。
・巡回送迎時間は、10:00~15:00までとなります。
・遅い場合は、各駐車場の案内人にお問い合わせ下さい。