(NOTE: I will try to add a PDF version of the maps..bear with me!)
Here`s some information about  something to do in the evening in Kurokawa,it`s called`bar-hopping`.
Here`s the original (in mini form!) Japanese leaflet,followed by my summary of the important bits in English.
You can pick up a (Japanese) map at the Visitor Center showing the 22 the different locations ( mostly Ryokan,but including  two restaurants and a shop) and a short description of the type of drink and snack you can expect. I`ve also included a brief description of the drinks on offer in English below.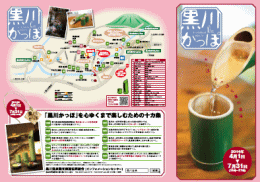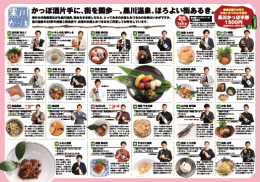 `KAPPO ZAKE` BAR-HOPPING IN KUROKAWA ONSEN!
WHAT?   A special bar-hopping pass made of wood (kappo tegata かっぽ手形)is available for ¥1500 from the reception of most inns and Visitor Center.
WHEN?   You can bar-hop between 15:00 and 21:00 (April 1st to July 31st)
WHERE?  Visit any 3 of the 22 inns,restaurants and (one) shop featured on the accompanying Japanese leaflet.
HOW?  Just present a valid pass,staff will remove one seal and you will be shown to the designated bar-hop area, given a bamboo cup (kappo) of sake or shochu and a small Japanese-style snack (tsumami) to go with your drink.
AGE LIMIT?  Yes…you have to be over 20 to drink alcohol in Japan,but a non-alcoholic drink can be requested.
Please look at the corresponding numbers on the Japanese map to locate each establishment and plan your bar-hop. DON`T DRINK AND DRIVE!
On the other side of the leaflet you can also see a photo of the type of drinks and snacks offered.
Usually the pictured snack and the drink described below will be served,but at certain times this will vary.
1. SATONOYU WARAKU offers Original WARAKU shochu made from wheat (mugi)
2. IYASHINOSATO KIYASHIKI offers homemade Plum Liquor (umeshu)
3. RYOKAN OKUNOYU offers local HORAI sake from Oguni
4. YUMERINDO offers AKIGESHIKI sake
5.  RYOKAN WAKABAoffers local HORAI sake
6. IKOI RYOKAN offers local HORAI sake
7. OKYAKUYAoffers KURA IPPON sake from Oguni
8. OYADO NOSHIYU offers HAKUTAKE SHIRO shochu
9. RYOKAN ICHINOI offers OISHI shochu
10. WAFURYOKAN MISATO offers YAMANOKAMI sweet potato shochu
11. KYORAKU Restaurant offers AKIGESHIKI sake (Please note we open from 18:00 and are closed Sunday)
12. GOTO Liquor Shop offers IMOGURUMA shochu made from taro (sato imo)
13.  NANJYOENoffers original NANJYOEN shochu mixed with tea
14.  GARAM Restaurant offers HISUI sake (Please note we open evenings from 19:00 and our day off varies)
15. RYOKAN YAMANOYU offers HAKUTAKE shochu
16. YAMANOYADO SHINMEIKAN offers KOKOROYUKUMADE sweet potato shochu
17. OYADO KUROKAWA offers local HORAI sake
18. FUMOTO RYOKAN offers KAZENOMORI doburoku sake
19. RYOKAN YUMOTOSO offers local HORAI sake
20. YAMABIKO RYOKAN offers YAMANOKAMI shochu
21. RYOKAN KONOYU offers KAZENOMORI doburoku sake
22.  RYOKAN SANGAoffers KOKOROYUKUMADE sweet potato shochu
CHEERS! Or as they say in Kurokawa KAPPO!!!
If this kind of activity proves popular it will probably continue through the late summer and autumn,but it currently seems to be running for a trial period. It looks like fun,as otherwise there isn`t that much to do of an evening in Kurokawa  (well,apart from hanging around your Ryokan,relaxing in your room or taking dips in various baths!). The purchase of a `Bar-hopping` pass together with an `Onsen-hopping` pass could prove an interesting combination…..but you`d better make sure you can find your way home afterwards!