It`s that time of year again, this year`s Kurokawa Onsen Festival will be taking place on Saturday,October 3rd near the Visitor Center  and in the surrounding streets. If you are staying in Kurokawa that night it should be quite lively downtown and well worth a look. I`m intrigued by the `bottom sumo` and may well give it a try this year…
Events start from around 3pm and end later than usual this year at 11pm,with fireworks. If you are driving,be prepared for some road closures or diversions downtown,especially during the evening parade.
Here is a schedule of the day`s events:
15:00 Food stalls open
16:00 Lucky draw for children (and a rumour that a certain big black bear with rosy red cheeks may be in the area!)
16:30 Games for children
17:30 Live music (brass band)
18:10 Parade in Samurai costume starts
18:40 Events for adults,arm-wrestling (men) and bottom sumo (women)
19:30 Live music
20:20 Parade in Samurai costume arrives
21:20 Yamanami Taiko drums
21:50 Mochi-rice ball tossing
22:00 Prize draw
22:50 Fireworks
JAPANESE FOLLOWS….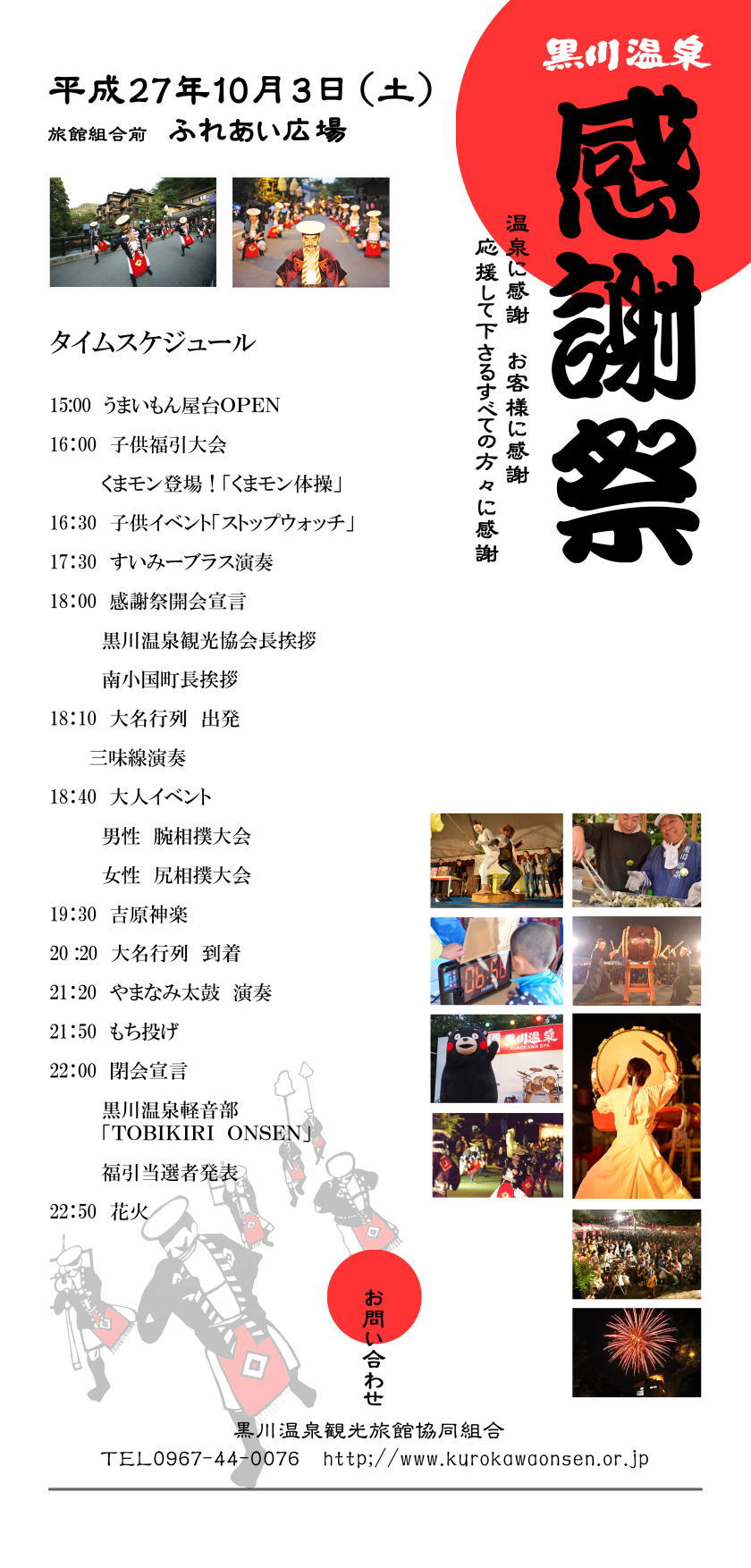 The following two tabs change content below.
onsen-hopper
Teacher
at
フレンズ英会話 "Friends"English Conversation School
Resident in Kyushu for over 20 years and fortunate to be living in this beautiful corner of Aso close to a number of onsens including Kurokawa, which I love to visit with friends or my guests from overseas. Keeping this semi-official blog in English for the Kurokawa Onsen Ryokan Association now gives me the perfect excuse...I just HAVE to try all the (public outdoor) baths I possibly can!
Latest posts by onsen-hopper (see all)