If you would like to learn more about RICE ( harvesting,cooking,eating and more) and happen to be in the Minami Oguni area on Sunday ,November 1st why not come along to this year`s Rice Festival   (Kome Fes 米フェス in Japanese). There will be rice pounding (mochitsuki) ,onigiri riceball making,popped rice,quizzes,locally-produced goods and more!
TIME: 11am to 2pm (so make sure you are there early on to try all the activities and see the various events)
COST: 1500yen (includes food,and several free gifts including a rice bowl and a bag of locally-harvested rice)
PLACE: Mr. Hino`s Rice Paddy (日野さんの田んぽ) and Haiwara Community Center in Manganji,Minami Oguni
The event is limited to 300 participants,places can be pre-booked at the Minami Oguni Tourist Association
tel: 0967-42-1444.
If you are heading out to this event from Kurokawa Onsen it is only a 5-minute ride by car,so it might be best to ask reception at your Ryokan to book a taxi,or go to the Visitor Center and ask the staff to call a taxi and explain to the driver where you want to go!  Kome Fes 米フェス 2015!
Japanese follows: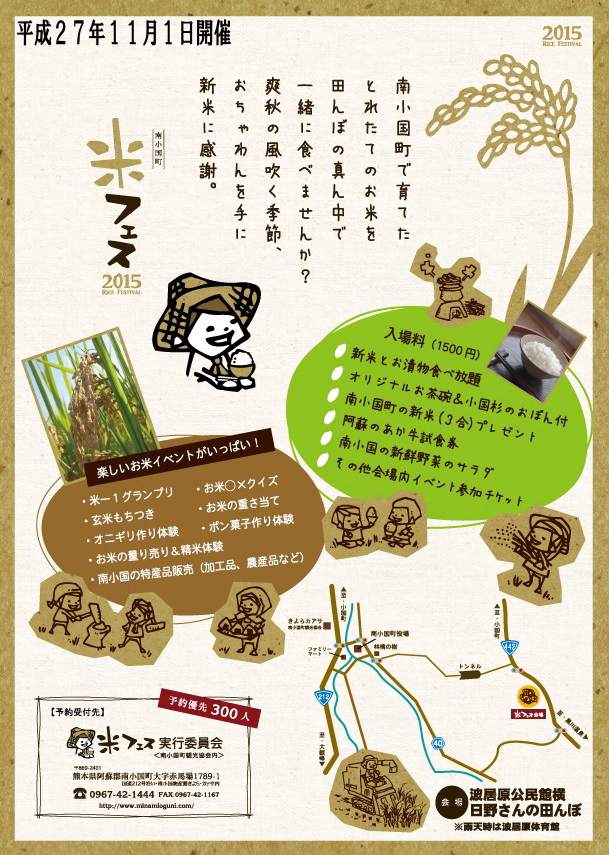 The following two tabs change content below.
onsen-hopper
Teacher
at
フレンズ英会話 "Friends"English Conversation School
Resident in Kyushu for over 20 years and fortunate to be living in this beautiful corner of Aso close to a number of onsens including Kurokawa, which I love to visit with friends or my guests from overseas. Keeping this semi-official blog in English for the Kurokawa Onsen Ryokan Association now gives me the perfect excuse...I just HAVE to try all the (public outdoor) baths I possibly can!
Latest posts by onsen-hopper (see all)