Since  the middle of January a new type of shared onsen-hopping pass  (シェア入湯手形 sheya nytotegata)  has been on sale at the Visitor Center in Kurokawa.
Ideal if you are visiting with a group of friends the pass costs only ¥2200 and allows a total of 6 entries to the baths.
(Single entrance to a bath is usually between ¥500 and ¥800,so you could easily save at least ¥800) here are some sample combinations for your shared pass!
-A group of six could enter one choice of bath once
-A group of three could enter a choice of two different baths once
-A couple could enter a choice of three different baths once    etc etc
The pass is valid for 6 months from the date of purchase and is undergoing a trial period. It is the same size as the regular onsen-hopping pass,but just has more stickers on the back. (One sticker will be removed per person per bath entrance)
So if you are visiting Kurokawa with a group of friends in the near future,please give it a try!
Japanese follows…..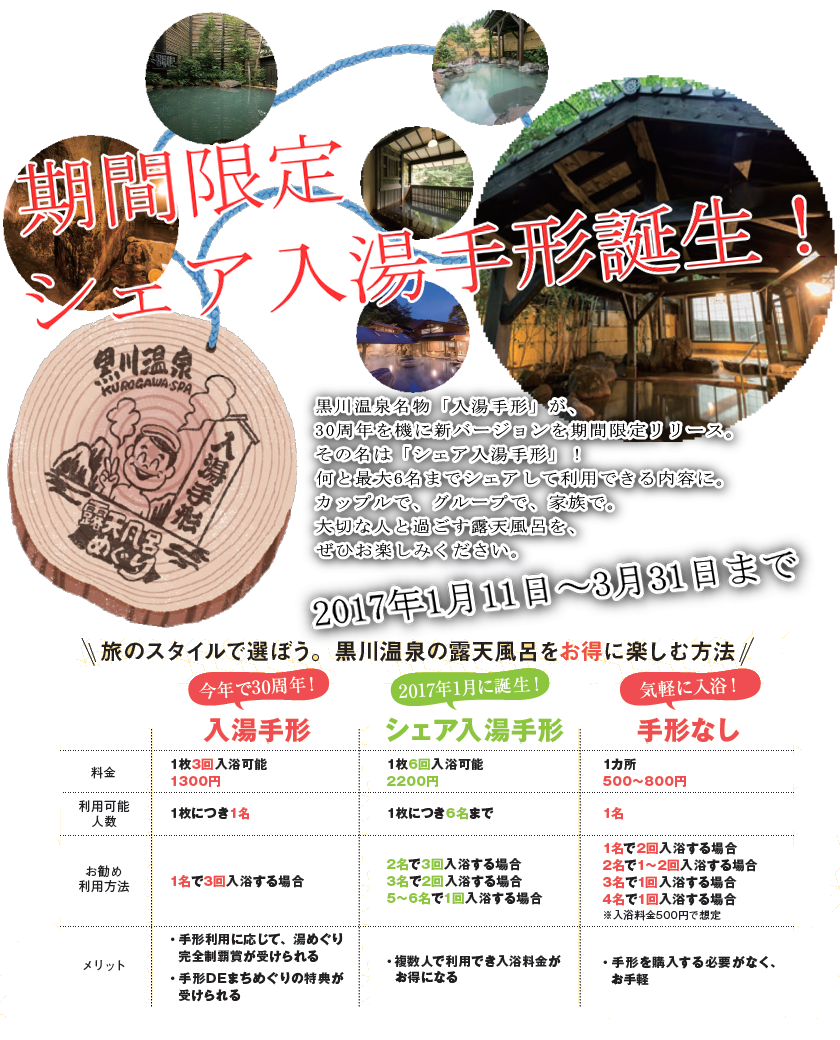 The following two tabs change content below.
onsen-hopper
Teacher
at
フレンズ英会話 "Friends"English Conversation School
Resident in Kyushu for over 20 years and fortunate to be living in this beautiful corner of Aso close to a number of onsens including Kurokawa, which I love to visit with friends or my guests from overseas. Keeping this semi-official blog in English for the Kurokawa Onsen Ryokan Association now gives me the perfect excuse...I just HAVE to try all the (public outdoor) baths I possibly can!
Latest posts by onsen-hopper (see all)