Once a year,on JUNE 26th, you can bathe in the public outdoor baths at any of the 24 ryokan belonging to the Kurokawa Onsen Ryokan Association for FREE!  If you are a day-tripper you may use the baths between 10am and 3pm,ryokan guests however may bathe from 8:30am to 9pm. Pick up an English map from the Visitor Center and of course,don't forget to pop into the reception of the ryokan first before heading off to use the baths!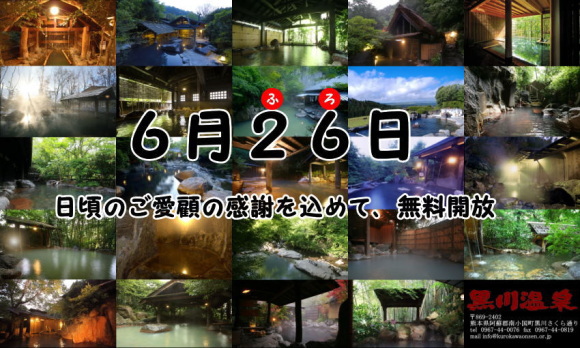 The following two tabs change content below.
onsen-hopper
Teacher
at
フレンズ英会話 "Friends"English Conversation School
Resident in Kyushu for over 20 years and fortunate to be living in this beautiful corner of Aso close to a number of onsens including Kurokawa, which I love to visit with friends or my guests from overseas. Keeping this semi-official blog in English for the Kurokawa Onsen Ryokan Association now gives me the perfect excuse...I just HAVE to try all the (public outdoor) baths I possibly can!
Latest posts by onsen-hopper (see all)